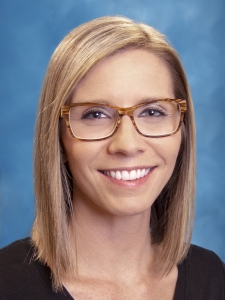 By JENNIFER CIPRIANO
Lakeland Police Officer Hannah Mathews saved the life of Gabriel Roche, and we are so grateful that he had the opportunity to thank her.
"I was on my way to a call when I noticed the car accident,"  Mathews explains, "There were 4-5 vehicles on scene, but no first responders.  The accident had just happened."
On August 28, 2019 at approximately 11:20 a.m., Lakeland Police Officer Hannah Mathews responded to a motor vehicle collision on U.S. Highway 98 North in Lakeland just moments after it occurred. Mathews found herself as the first responder on scene. "As I approached the scene, I noticed the vehicle was rolled over, resting on its hood. As I quickly ran toward it, a bystander met me and told me that the driver was injured and had lost a lot of blood."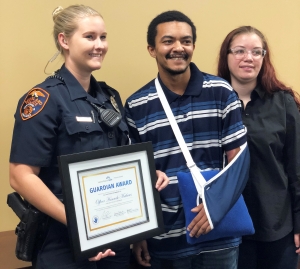 Mr. Roche had suffered a traumatic injury to his left arm and was profusely bleeding from the site. Another bystander was applying pressure with a towel to the site of the injury, which was covered in blood.
Officer Mathews quickly recognized the need to use a tourniquet and rapidly applied her Lakeland Police Department-issued tourniquet to Mr. Roche's arm. Officer Mathews is one of hundreds who have been trained through the Bleeding Control Basic course offered by Lakeland Regional Health.
Officer Mathews knew that a victim could bleed out in as little as 3 minutes and that tourniquets are very painful. She knew she needed to intervene quickly and was able to coach Mr. Roche through the pain and stay with him and his wife, Krista, until Emergency Medical Services arrived.
Mr. Roche was rapidly treated by Emergency Medical Services and transported to Lakeland Regional Health Medical Center's Level II Trauma Center.  He was immediately assessed by the trauma team and found to be in hemorrhagic shock, which occurs when an individual loses a significant amount of blood. He received multiple blood products and was urgently taken to the operating room. Mr. Roche's injury to his left arm involved not only an open fracture but also a traumatic injury to his brachial artery and brachial vein, two major blood vessels in the upper arm. He also required extensive nerve repair.
With the help of the surgical specialty groups at Lakeland Regional Health Medical Center, including vascular surgery, orthopedic surgery and trauma surgery, Mr. Roche underwent multiple operations. He received care from the multidisciplinary trauma team and spent several weeks in the Medical Center's Acute Care Trauma Unit. He was discharged to go home with his wife on September 19, 2019. Mr. Roche continues to rehabilitate his left arm by doing physical therapy at home. His range of motion has improved and he is slowly regaining feeling in his fingers.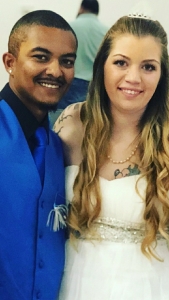 Mr. Roche explains, "It was just an ordinary day. I was leaving the bank when a vehicle crossed all three lanes of traffic and caused my car to flip." Mr. Roche and his wife, Krista, realize things could have turned out much differently that day. He expressed his thanks to Officer Mathews: "She saved my life and I am so thankful."
Prior to completing the Bleeding Control Basic Course, Officer Mathews had no experience applying a tourniquet. She shares that the course prepared her to act quickly and confidently, she knew how to intervene and had the right knowledge and equipment to do so.
"When I originally took the Bleeding Control Basic Course, I did not envision this would be the event I would use the training for. I thought I would use the training while responding to a shooting or a stabbing. Motor vehicle collisions occur all the time, but usually a traffic unit responds. I just happened to be in the right place at the right time."
As the only Level II Trauma Center for Polk, Highlands and Hardee counties, our Medical Center too often sees preventable injuries and loss of life from trauma. With Injury Prevention being one of Lakeland Regional Health's strategic community priorities and initiatives, we consistently look for opportunities to collaborate with community partners to reduce unintentional injuries and deaths due to trauma.
We know that the No. 1 cause of preventable death after injury is bleeding, according to the American College of Surgeons Committee on Trauma, and this drives our Trauma Center to educate the community on the skills required to control bleeding. We do this through our Bleeding Control Basic Course, also known as Stop the Bleed.
In February 2019, the Trauma Program at Lakeland Regional Health partnered with the Lakeland Police Department to provide the Bleeding Control Basic Course to all of its sworn law enforcement officers. Shortly after receiving the training, the Lakeland Police Department issued each officer his or her own tourniquet to utilize on duty.
As part of bleeding control education, the Trauma Program at Lakeland Regional Health recently developed the Guardian Award.
This award recognizes non-medical responders and community members who provide bleeding control techniques learned in the Bleeding Control Basic Course.  On October 18, 2019, our Trauma Program awarded Officer Hannah Mathews for her courageous actions.
Lakeland Regional Health Trauma Medical Director, Dr. Olumide Sobowale, presented the award: "This award is to recognize that Officer Hannah Mathews has gone above and beyond to aid a community member in an emergency situation. Because of her quick response, and knowledgeable actions, she has given someone a better chance at life." Officer Mathews is the very first recipient of the Guardian Award.
Gabriel and Krista Roche, along with their family, were able to attend the award presentation and meet Officer Mathews again. This was the first time they were reunited since the accident and it was a very special moment for everyone.
Through our community partnership with LPD, a life was saved and we are so grateful.  This partnership is just one example of how community education and collaboration save lives.
INTERESTED IN ATTENDING OR
HOSTING A BLEEDING CONTROL COURSE?
Visit Eventbrite and search, "Bleeding Control" in Lakeland, Florida or click this link: http://lakelandbleedingcontrol.eventbrite.com to register for an upcoming course at Lakeland Regional Health.
To host a course at an external site (for groups of 10 or more), please email me: jennifer.cipriano@mylrh.org to schedule a free course for your group.
About the Author
Jennifer Cipriano, MSN Ed., BSN, RN, CMSRN, is the Trauma Continuum of Care Coordinator for Lakeland Regional Health and is a Certified Child Passenger Safety Technician.