Lakeland Regional Health Medical Center is pleased to announce we have joined the National Organ Donation Campaign as a hospital partner.
Sponsored by the U.S. Department of Health and Human Services, this campaign brings together local organ, eye, and tissue donation organizations, and their hospital partners to educate hospital communities on the importance of donor registration.  Every year the campaign culminates in April, which is celebrated across the nation as Donate Life Month.
Lakeland Regional Health Medical Center works with the local organ recovery organization, LifeLink Foundation, to facilitate the donation process. Last year Lakeland Regional Health Medical Center had 15 organ donors, which resulted in 46 lives saved!
More than 116,000 people in the United States await the Gift of Life through organ donation. Nearly 5,400 of those are our friends and neighbors in Florida. Hundreds of thousands more benefit from tissue and cornea donation annually.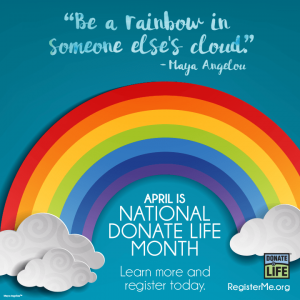 One person can potentially save up to 8 lives through organ donation and enhance up to 75 lives through tissue donation. There are no financial costs for the donor's family and anyone regardless of age or medical condition can sign up on the state's organ and tissue donor registry.
To become an organ and tissue donor, sign up on Florida's organ & tissue donor registry by visiting www.DonateLifeFlorida.org. Share your decision with your family and friends!