By SANDRA HARRISON, MSA, RD
Outside of Florida, barbecue season is generally spring and summer. We are fortunate here in Polk County to be able to grill outdoors all year long.
Barbecue doesn't have to be synonymous with big, sloppy, calorie-laden ribs and carb-heavy side dishes. Just in time for our the kickoff of barbecue festival season but useful anytime, here are ways to make and eat barbecue with zero regrets.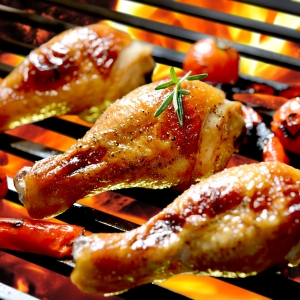 Choose your protein wisely. Go for skinless chicken breasts, fish and lean ground chicken. These three recipes for grilled turkey burgers are so delicious, you won't even miss the fattening red meat.
Portion control. One-quarter of your plate should be taken up by meat, chicken or fish. All-you-can-eat barbecue buffets where your plate is overflowing are not healthy!
Marinade or rub. Rather than slather on sugary sauces, season your protein with a marinade or rub. Beware that some marinades and rubs can increase salt intake for those who are restricting their sodium intake, such as people with congestive heart failure. Fruit juices also can be used as a low-sodium marinade option.
Veggies too. Meats aren't the only items that taste great from the grill. Throw on peppers, squash, tomatoes, corn or mushrooms. Brush with a healthy oil and season as necessary.
Make your own sides. Cole slaw, potato salad and baked beans can be loaded with high-fat mayonnaise, sour cream, bacon and cheese. Replace mayo with nonfat yogurt where possible. Make a pasta salad. Or just stick with grilled veggies or a tossed salad.
Think green. If you start with a salad, you'll have less room for the fattening items. Avoid high-fat dressings and cheeses though.
Whole grain buns. If you're making all the effort to make your protein delicious, low fat and not too enormous, then don't throw it in between just any pieces of bread. Go for the whole grain variety.
About the Author
Sandra Harrison, MSA, RD, is Supervisor of Clinical Nutrition Services for Lakeland Regional Health.
View other low-fat recipes, such as Strawberry and Avocado Salsa, Low-Fat Caesar Salad Dressing and Pasta with Roasted Tomatoes, Squash and Broccoli, on Lakeland Regional Health's blog page.