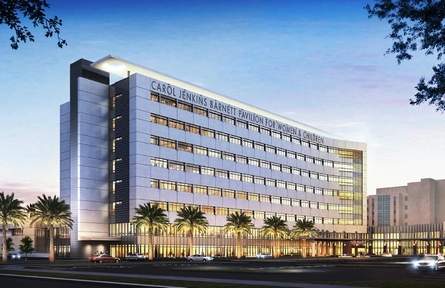 The Lakeland Regional Health Foundation has received a transformational naming gift in honor of Carol Jenkins Barnett for the Pavilion for Women and Children currently under construction at the Lakeland Regional Health Medical Center Campus. The gift is the largest donation received to date by the Foundation. The new building will now be known as the Carol Jenkins Barnett Pavilion for Women and Children.
"My wife, Carol Jenkins Barnett, is passionate about helping children successfully develop, grow and learn. As lifelong residents of Lakeland, we know how important accessible, state-of-the-art care is for mothers, babies, and children. I am excited to celebrate this Mother's Day by recognizing Carol's compassionate heart and generous spirit through a gift that is a promise to our community for a healthier shared future," said Barney Barnett of the contribution.
"My own mother, Anne MacGregor Jenkins, was a neonatal nurse and a loving, kind and nurturing presence in my life and that of my brothers and sisters, so my husband's Mother's Day gift is very special to me," said Carol Jenkins Barnett of the naming honor.
Carol Jenkins Barnett has been serving as a member of the Board of Directors of Publix Super Markets, Inc. since 1983. In addition, Mrs. Barnett has served since 1989 as President of Publix Super Markets Charities, Inc., which was founded by her father, George W. Jenkins, to provide service opportunities and philanthropic support to the communities served by Publix Super Markets, Inc. In 2016, Mrs. Barnett was inducted into the Florida Women's Hall of Fame in recognition of her outstanding service and dedication to others. Other professional awards and honors include the George Jenkins Award from the Lakeland Area Chamber of Commerce in 2011, National Alexis de Tocqueville Award from the United Way of America in 2002 and the Jere Annis Award through the Leadership Lakeland Alumni in 1997.
Mrs. Barnett's community service and recognition are extensive and include The Children's Movement of Florida, Florida Council of Economic Education, Florida TaxWatch Center for Educational Performance/Pre-K, Florida Council on Economic Education and the Center for Excellence in Early Education National Advisory Board. Mrs. Barnett is a founding member of the GiveWell Community Foundation and was instrumental in the creation of the innovative child literacy program ReadingPals, implemented in collaboration with the Women's Leadership Council of the United Way of Central Florida.  In addition, Mrs. Barnett founded Family Fundamentals, a parent resource center managed by "Success by 6" a United Way of Central Florida early literacy initiative.
Barney Barnett currently serves as Vice Chairman of Publix Super Markets, Inc., where he has worked for the past 47 years. He is a widely known and respected business and community leader who has served on the national Board of Directors for United Way. He also serves on the Board of Trustees at Florida Southern College where his commitment to business education was honored with the foundation of the Barney Barnett School of Business and Free Enterprise. He is fervent about helping others achieve their dreams and is a recipient of awards from United Way, Lakeland Area Chamber of Commerce, and the Gulf Ridge Council of the Boy Scouts of America. In 2002, Mr. Barnett was inducted into the Tampa Bay Business Hall of Fame.
"We are thankful to the Barnett family for their tremendous generosity. Their passion for the wellbeing of the children of Florida is well known," said Mr. Bill Pou, Chairman of the Board of Directors of the Lakeland Regional Health Foundation. "The philanthropic support of our donors is key to our continued investment in the health of our community."
"We are grateful to the Barnett family. Their generous gift will provide the women and children of our community with the very best care in a compassionate, advanced and healing environment," said Dr. Jay Mulaney, Chairman of the LRMC/LRHS Board of Directors.
The Carol Jenkins Barnett Pavilion for Women and Children will include approximately 300,000 square feet of inpatient and outpatient space on the south side of the Medical Center campus. The project is expected to be complete in early 2018. This new facility addition was planned after extensive research on needed healthcare services was conducted and is part of a master facility plan that is working toward the eventual elimination of semi-private rooms at the Medical Center.
As a not-for-profit healthcare organization, Lakeland Regional Health is committed to providing effective, safe, timely, efficient and equitable care, regardless of a patient's ability to pay for services. Contributions to the Lakeland Regional Health Foundation provide for advances that keep Lakeland Regional Health on the leading edge of clinical programs, services and technology.
About Lakeland Regional Health Foundation
The Lakeland Regional Health Foundation was created as a not-for-profit 501(c)(3) organization in 1971 to support Lakeland Regional Health's work to deliver nationally recognized healthcare, strengthen the health of the community and advance the future of healthcare for those it serves. 100% of all donations are invested in clinical programs, facilities, and equipment used to care for patients. For more information about Lakeland Regional Health Foundation, visit foundation.myLRH.org.