Lakeland, FL – This morning Lakeland Regional Health placed the final external beam on the Carol Jenkins Barnett Pavilion for Women and Children during a special Topping Off Ceremony.
"Today marks an important milestone in the development of a very special community resource. The Carol Jenkins Barnett Pavilion for Women and Children is the direct result of the generous support of our donors and invaluable design input from those we serve," Elaine C. Thompson, Lakeland Regional Health President and CEO, told a large gathering of Lakeland Regional Health employees and state and local officials today.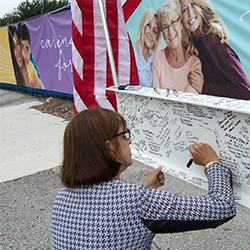 The Topping Off Ceremony for the eight-story Pavilion took place at the Lakeland Regional Health Medical Center Campus. This 350,000-square-foot building is the largest addition to the Medical Center in Lakeland Regional Health's history.
The beam, approximately 5 inches wide by 13 inches tall by 13 feet long, was signed by patients and visitors, dignitaries and employees over the last week.
"Our patients, team members and community are woven into the architecture of our health system and are absolutely integral to this very special destination for care," said Danielle Drummond, Lakeland Regional Health Chief Operating Officer and Executive Vice President. "The Carol Jenkins Barnett Pavilion for Women and Children meets very pressing community health needs."
The $275 million Carol Jenkins Barnett Pavilion for Women and Children will include inpatient and outpatient space on the south side of the Medical Center campus.
The eight-story building will be home to:
Full-service 33-bed Pediatric Emergency Department with imaging services
17 private suites for labor, delivery, recover and high-risk antepartum
Polk County's only Level III Neonatal Intensive Care Unit, with 30 beds
32-bed Mother-Baby Unit, designed to allow women and their newborns to room together
30-bed Pediatric floor, including 12-bed Pediatric Intensive Care Unit, featuring space for family members who need to stay overnight
Two additional 32 bed patient care units for antepartum, mother/baby, women's surgery and medical/surgical patient needs.
Nemours Children's Health System Pediatric Specialty Clinics
Pediatric Surgery Department with 4 pediatric surgery suites, a 10-bed post-anesthesia care unit and a 17-bed pre/post-operative unit.
Outpatient obstetric clinic, staffed by Board certified obstetricians and specially trained fetal maternal physicians
State-of-the-art auditorium for community outreach
On-site cafeteria
An intimate chapel area
Gift shop
A Topping Off Ceremony is a builder's tradition, often held when the last beam is placed atop a structure during construction. Several traditions surround the ceremony, including the hoisting of a tree and the Country's flag.
"Today is a very special day for this community," said Florida Commissioner of Agriculture Adam Putnam, who spoke at this morning's event. "Lakeland Regional Health is committed to raising the bar for children's and women's healthcare services, which will have a positive impact on our region for generations to come."
Commissioner Putnam and his wife Melissa have four children and live in Bartow.
About Lakeland Regional Health Medical Center
Lakeland Regional Health Medical Center is Florida's fifth largest hospital. Founded in 1916 as Morrell Memorial Hospital, this 849-bed, comprehensive tertiary referral hospital operates a Level II Trauma Center, a Level II Neonatal Intensive Care Unit, and the state's busiest single site Emergency Department. It handles over 1,300 trauma visits annually and holds accreditations for its Advanced Primary Stroke Center and Chest Pain Center. Three hybrid operating rooms and a catheterization lab offer patients the least invasive surgeries possible and enhanced safety. Its Emergency Department has earned the 2014 Innovation of the Year from the Florida Hospital Association and the 2014 EmCare Genesis Cup Award. In 2015, the state-of-the-art, 32-bed Bannasch Institute for Advanced Rehabilitation Medicine opened to provide evidence-based, innovative inpatient therapeutic rehabilitation services designed to dramatically improve patient outcomes. For more information about Lakeland Regional Health, visit http://www.mylrh.org
# # #