Breast Surgeons Toan Nguyen, MD, and Vanessa Prowler, MD, recently undertook special additional training to ensure that breast cancer patients do not have large, noticeable scars long after their cancer journey is over. The fellowship-trained surgeons are the only physicians in the area with Hidden ScarTM certification.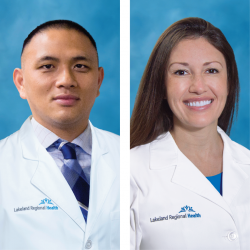 "A scar is what a patient sees every time they look in the mirror, reminding them of their cancer diagnosis," said Dr. Prowler. "Our goal is to safely and effectively remove the breast cancer and make it look as though the patient never had breast surgery."
This advanced technique involves limiting incisions to one of three hidden locations, tissue rearrangement techniques, and in some cases a symmetry procedure on the opposite breast.
"When the breast looks great, patients have an easier time moving past the diagnosis," said Dr. Prowler. "Many breast cancer survivors are negatively affected by the constant reminder of their disease through disfiguring scar on their breast. Using advanced oncoplastic techniques, women often cannot even locate their incisions."
Several studies of breast cancer patients, including those published in the American Journal of Psychiatry and the Journal of Clinical Oncology, discovered that women who underwent breast-conserving surgery demonstrate a more positive body image than women who underwent mastectomies for breast cancer. These women also reported they felt more physically attractive.
Hidden ScarTM offers an advanced approach to breast cancer surgery that hides scars, minimizing the daily emotional reminder of a breast cancer diagnosis. This approach is used for nipple-sparing mastectomies and lumpectomies. Patients who undergo this approach experience optimal clinical and cosmetic outcomes and are at no higher risk of cancer recurrence than patients who undergo other surgical techniques, according to a 2017 study by the American College of Surgeons.
"A patient is not a disease, but rather someone who is looking for guidance to improve her health," said Dr. Nguyen, who also serves as Medical Director of Breast Oncology for Lakeland Regional Health. "I strongly believe in tailoring a treatment that is specific to each patient, and these breast-conservation techniques allow us to provide women with more options for their breast cancer care with the goal of restoring and even enhancing the shape and function of the breasts."
An estimated 268,670 men and women will be newly diagnosed with breast cancer in 2018, according to the American Cancer Society. More than 3.5 million U.S. women with a history of breast cancer were alive as of January 1, 2016, according to an article published in the CA: Cancer Journal for Clinicians.
"I often see patients who I took care of many years ago still living healthy, fulfilling lives, and I realize how much a good doctor can positively impact the lives of so many people," said Dr. Nguyen.
Signs and Symptoms of Breast Cancer
Painless lump in breast or underarm area.
Breast pain or heaviness.
Swelling, thickening or redness of the skin.
Nipple abnormalities, such as spontaneous nipple discharge.
What can you do to pursue wellness?
Perform monthly breast self-exams.
Maintain a healthy body weight.
Learn your family history and arm yourself with knowledge.
Exercise 30 minutes daily.
Eat healthy, particularly low-fat foods, fruits and vegetables.
Talk with your doctor about your risk of breast cancer.
Schedule regular mammograms when appropriate.
Refrain from smoking cigarettes.
About Our Breast Program
Our Breast Cancer Program is fully accredited by the National Accreditation Program for Breast Centers, overseen by the American College of Surgeons. To make an appointment with one of our Breast Program care providers at our award-winning Hollis Cancer Center and state-of-the-art Grasslands Campus, call 863.603.6565.