By DEVON FAHRENWALD & JILLIAN HALEY
Summer is quickly approaching and one challenge families may face in these upcoming months is staying active and entertained while continuing to social distance. Our typical summer activities may have limitations or restrictions, such as no water parks, limited attendance for summer camp, or changes in family vacation plans.
As tweens and teens realize that their summer plans may need to be modified, they can experience various emotions, such as sadness, anger or anxiety. Validating those emotions, offering reassurance and coming up with new plans can help your child cope and generate a fresh outlook on summer.
As we continue to navigate through these changes, remember that transitioning to a summer schedule can be tough for everyone. When children and teens take a break from school, it may result in minimal structure, along with the "I'm bored" and "there's nothing to do" statements. Children and adolescents of all ages crave structure (even if they don't realize it), as it offers a sense of stability, reduces anxiety over the unknown, and gives a touchstone to cling to during the unpredictability and uncertainty of the world today. By presenting different activities, it can alleviate some of that boredom and provide a sense of structure.
Finding fresh activities can always be a challenge, especially with social distancing and limited capacity at venues. But with some creative thinking and gathering of new ideas, you and your family can still find ways to enjoy this summer!
Some ideas to keep your summer days fun and enjoyable:
Create a Time Capsule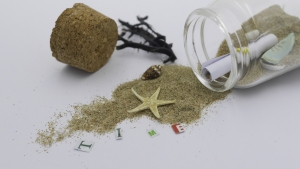 A time capsule can be a fun way to help your teen remember these unpredictable times. First, start with a container, maybe a shoebox or plastic tub, and let them decorate it so it's more personal. Next, gather items, such as souvenirs, pictures, news articles, personal journal entries and whatever else they want. Allow your child to think about the changes COVID-19 presented and find items that reflect these times.
Once the items are collected, it's time to bury or hide the time capsule! Seal the capsule so that it's not easily accessible, maybe wrap the whole thing in packaging tape. This will prevent sneak peeks before it's ready to be opened. This capsule can be buried in the yard or garden or kept in a safe place in the house.
Next, your child will decide when they should open their time capsule. In three months, next year, five years from now? It's their choice! Just remember to set a reminder on a phone or on the calendar!
Virtual Family Reunion
This is a great way for your child to take initiative and get the whole family together, virtually, of course! Encourage your teen to use a free video platform, such as Zoom or WebEx, and host a virtual family dinner or game night. Invite the grandparents, cousins, aunts and uncles, or whoever they count as their extended family to join in on the fun. Let your child decide what day and time this virtual family reunion should take place. They can even send out invites through email or text! Next, they'll set up a computer in the dining room for a group dinner or in the living room for a friendly, competitive night of playing games.
Write a Letter to your Future Self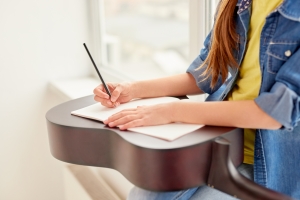 This activity encourages your child to reflect on who they are during these current times. Encourage them to think through their thoughts and feelings about living through a global pandemic. Maybe they want to write about what they did when they social distanced or what they missed as the world quickly changed. They can also write down their dreams and future plans.
Then your child will decide on when they should open this letter to their future self, which could be next year or ten years from now. Your child will find a special place to hide their letter and when it's time, they get to read their letter from their past self. We guarantee they'll get some laughs out of it!
Virtual 5K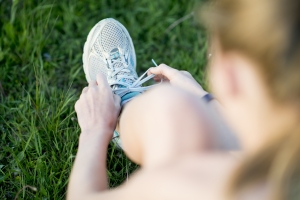 This is another activity where family and friends can be involved! Allow your child to organize a virtual 5K by inviting family, friends and neighbors to join. Individually, everyone decides on what day and where they want to run or walk their personal 5K. They can track their time and then submit it to your child organizing the virtual 5K. Also, your child can create an award for the top three runners and walkers or send out handmade certificates to all who participated.
Create a "COVID Calendar"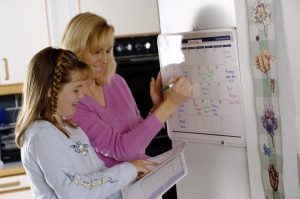 Find a blank calendar and fill out each day of the month with a cool activity or reward. Maybe the 12th is "Kids Cook Breakfast" and the 18th is Mani/Pedi Spa Day at Home and the 23rd is Get a Drive-through Happy Meal at McDonalds. Half the fun is picking ideas together as a family.
Also, if you are feeling extra creative, you can go online and find instructions on how to make it a "scratch-off' calendar, where each day the kids can scratch off the date to see what fun activity is planned for the day!
Paint or Redesign a Room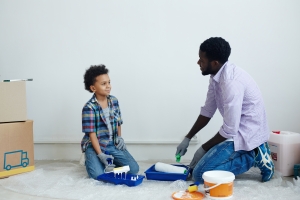 What a perfect time to freshen up your bedroom! (Devon speaking here) When I was a kid, I loved to change the layout of the furniture in my room. Swap which wall my bed was on, where my dresser sat, etc. It made my whole space feel fresh and fun.
If you want, take it even bigger and paint your room a new color or order decals online to put up on your walls. Print out quotes and pictures to put up so that every time you look around you are inspired.
A blast from the past!
Geocaching is like a scavenger hunt in the real world. Your child will find geocache locations, which can be found by using a GPS-enabled device, like a cell phone. Also, there are apps and websites dedicated to Geocaching. They give you clues and landmarks to guide you to a hidden target at the end. Sometimes there are various items left behind at the geocache. If you take anything from a geocache location, leave something else for the next person! And just make sure you are staying safe and in areas that you're familiar with.
With so much uncertainty surrounding this global pandemic, planning for summer activities may be slightly challenging, but that doesn't mean it's not possible. There are so many opportunities to create unique memories, and this moment in time is part of history forever.
When you look back at this era of your life, what do you want to remember? What stories will you be able to tell? Take these moments and, through all the pressure and uncertainty, find joy.
About the Authors
Devon Fahrenwald and Jillian Haley are Certified Child Life Specialists with Lakeland Regional Health Medical Center. If you find that your child is experiencing anxiety or depression that is affecting their day-to-day outlook, please reach out to the child and adolescent experts at Lakeland Regional Health, 863.687.1122.