Accreditations and Recognition

Commission on Cancer Outstanding Achievement Award Winner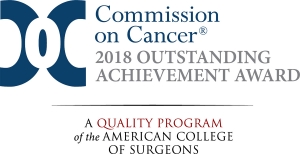 We are one of 24 oncology programs in the United States selected as a 2018 Outstanding Achievement Award winner by the Commission on Cancer. Established in 2004, this honor is granted twice a year to oncology programs that earn Gold Status Accreditation with Commendation, strive for excellence in consistently meeting and exceeding Commission on Cancer standards and are committed to ensuring high-quality cancer care. Lakeland Regional Health's oncology program earned its first Gold Accreditation in August 2018.
Commission on Cancer with Commendation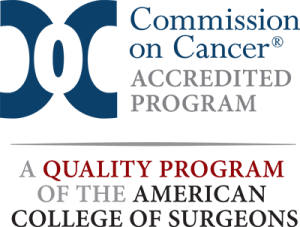 The Hollis Cancer Center's cancer program earned a three-year gold re-accreditation status – the highest recognition possible – from the American College of Surgeons' Commission on Cancer in 2018. Only 64 programs in Florida are accredited by the Commission on Cancer. There are more than 1,284 Commission on Cancer-accredited programs in the United States and Puerto Rico, representing only 25% of all hospitals.
This accreditation with commendation is the result of a rigorous on-site evaluation by a physician surveyor. To be accredited, facilities must prove its patients have access to the full scope of services required to diagnose, treat, rehabilitate and support cancer patients and their families. During the evaluation process, the healthcare system earned compliance on 25 standards and commendations in the following six standards: clinical trial accrual, public reporting of outcomes, College of American Pathologists protocols, nursing care, follow-up of all patients and Rapid Quality Reporting System participation.
According to the CoC accreditation program standards, five elements are key to the success of an accredited cancer program:
The clinical services provide state-of-the-art pretreatment evaluation, staging, treatment and clinical follow-up for cancer patients seen at the facility for primary, secondary, tertiary, or end-of-life care.
The cancer committee leads the program through setting goals, monitoring activity, evaluating patient outcomes and improving care.
The cancer conferences provide a forum for patient consultation and contribute to physician education.
The quality improvement program is the mechanism for evaluating and improving patient outcomes.
The cancer registry and database is the basis for monitoring the quality of care.
Among Lakeland Regional Health's programs that contribute to its accreditation:
Tumor Board that meets weekly to bring a multidisciplinary team approach to each patient's case.
Open clinical trials with 18% participation rate at Lakeland Regional Health Hollis Cancer Center. The national standard participation rate is 2.7%.
Survivorship Care Program that offers follow-up care and communication.
American College of Radiation Oncology Accreditation
Our Radiation Oncology program is accredited by the American College of Radiation Oncology. Accreditation is a voluntary process in which programs undergo a rigorous audit to assure quality standards are upheld. The American College of Radiation Oncology strives to ensure the highest quality care for radiation therapy patients and promote success in the practice of radiation oncology through education, responsible socioeconomic advocacy, and integration of science and technology into clinical practice.
National Accreditation Program for Breast Centers
Our breast cancer program is fully accredited by the National Accreditation Program for Breast Centers, overseen by the American College of Surgeons.
To receive this accreditation, the Hollis Cancer Center complied with standards established by the NAPBC for treating women who are diagnosed with the full spectrum of breast disease. These standards include proficiency in leadership, clinical management, research, community outreach, professional education and quality improvement.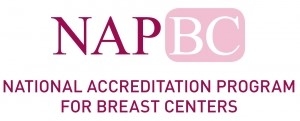 This accreditation gives patients considering Lakeland Regional Health Hollis Cancer Center confidence that they will have access to comprehensive, state-of-the-art care; a multidisciplinary care approach; information about ongoing clinical trials and new treatments; and quality breast care close to home.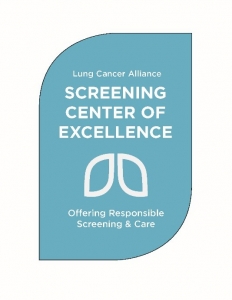 Lung Cancer Screening Center of Excellence
The Lung Cancer Alliance designates Hollis Cancer Center a Screening Center of Excellence for its ongoing commitment to responsible, high-quality screening practices. Designated Screening Centers of Excellence are committed to provide clear information based on current evidence on who is a candidate for lung cancer screening, and to comply with comprehensive standards based on best practices developed by professional bodies such as the American College of Radiology, the National Comprehensive Cancer Network and the International Early Lung Cancer Action Program for controlling screening quality, radiation dose and diagnostic procedures within an experienced, multidisciplinary clinical setting.