By DEBORAH BALZER
Mayo Clinic News Network
Are you craving the taste of a pizza but not the guilt and all the calories?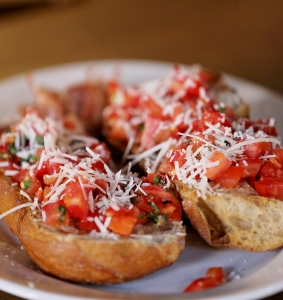 Consider trying this healthy remake of French bread pizza that could turn into your new favorite Friday night treat. It's easy, delicious and approximately 265 calories per slice.
Dietitian's note: For a crispier pizza, bake on a pizza stone — a heavy, round plate that simulates the brick bottoms of some commercial pizza ovens. For best results, put the pizza stone on the lowest oven shelf.
1 cup diced asparagus
1 cup diced Roma tomatoes
1 cup diced red bell pepper
1 tablespoon minced garlic
1 loaf French bread, about 8 inches long, sliced in half and cut into 4-inch sections
1 cup pizza sauce
1 cup reduced-fat shredded mozzarella cheese
Heat the oven to 400 F. Lightly coat a baking sheet with cooking spray.
In a small bowl, add the asparagus, tomatoes and pepper. Add the garlic and toss gently to coat evenly. Arrange the French bread on the baking sheet. Add 1/4 cup of the pizza sauce and 1/4 of the vegetable mixture to each section. Sprinkle each with 1/4 cup mozzarella cheese.
Bake until the cheese is lightly browned and the vegetables are tender, about 8 to 10 minutes. Serve immediately.
Serving size: 1 4-inch section
Nutritional analysis per serving: Calories 265, Total fat 5 g, Saturated fat 2 g, Trans fat 0 g, Cholesterol 12 mg, Sodium 660 mg, Total carbohydrate 40 g, Dietary fiber 4 g, Protein 15 g