Tribute to a Hero: Become The Hero Of Your Journey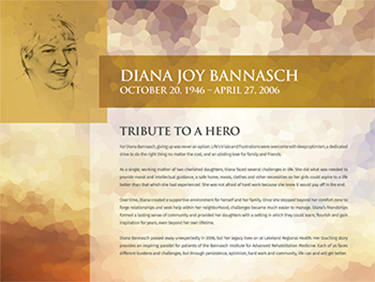 For Diana Bannasch, giving up was never an option. Life's trials and frustrations were overcome with deep optimism, a dedicated drive to do the right thing no matter the cost, and an abiding love for family and friends.
As a working single mother of two cherished daughters living in metro Detroit, Michigan, Diana did what was needed to provide moral and intellectual guidance, a safe home, meals, clothes and other necessities so her girls could aspire to a life better than that which she had experienced. She was not afraid of hard work because she knew it would pay off in the end.
Over time, Diana created a supportive environment for herself and her family. Once she stepped beyond her comfort zone to forge relationships and seek help within her neighborhood, challenges became much easier to manage. Diana's friendships formed a lasting sense of community and provided her daughters with a setting in which they could learn, flourish and gain inspiration for years, even beyond her own lifetime.
Diana Bannasch passed away unexpectedly in 2006, but her legacy lives on at Lakeland Regional Health. Her touching story provides an inspiring parallel for patients of the Bannasch Institute for Advanced Rehabilitation Medicine. Each of us faces different burdens and challenges, but through persistence, optimism, hard work, and community, life can and will get better.
It is an honor to help our courageous patients regain independence and live fulfilling lives. Truly, each of us has the potential to Become the Hero of Your Journey, just as Diana Bannasch did.