When Thomas Sheridan was diagnosed with COVID-19 on November 21, he and his girlfriend grew concerned.
At 60 years old, Thomas is not in the best of health. He has cirrhosis of the liver, hypertension and diabetes and is overweight. His COVID-19 symptoms included extreme body aches, headaches, high blood pressure, nasal and sinus drainage, fever and nausea. "I felt like I had been hit by a truck," Thomas said.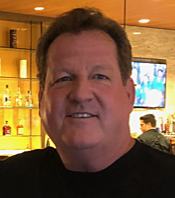 His longtime girlfriend began researching everything she could. "What was that treatment that President Trump had?" she asked at one point. She scoured the Internet throughout the night, and at about 5 a.m. November 22, she discovered that the two nearest hospitals to offer a similar drug treatment are in Tampa and Lakeland. Lakeland Regional Health had just begun treating high-risk COVID-19 patients ages 12 years and older with bamlanivimab, a treatment aimed at reducing the severity of symptoms and eliminating the need for hospitalization.
His girlfriend, who tested negative for COVID-19, called the Emergency Department at Lakeland Regional Health Medical Center and found out Thomas met the criteria. They immediately hopped in the car to travel 3 hours from their home in Palm Beach Gardens.
The drug takes about an hour to be administered through a vein, followed by an hour of observation. Thirteen days later, Thomas said he is thankful that the timing of his diagnosis coincided with the Food and Drug Administration's Emergency Use Authorization of bamlanivimab a few days prior. "Within three days, I was feeling a lot better. There is no doubt that this infusion was the key to boosting my immune system," a grateful Thomas said.
While some have reported headaches as a common side effect, Thomas said the infusion left a bruise on his arm but no other side effects.
Lakeland Regional Health has a large supply of bamlanivimab doses, garnering recognition from the Florida Surgeon General's office for its efficiency in rolling out this new drug therapy. The health system also is now administering casirivimab and imdevimab, another antibody treatment authorized for Emergency Use by the U.S. Food and Drug Administration that is aimed at high-risk patients manufactured by Regeneron Pharmaceuticals.
A list of criteria for receiving bamlanivimab can be found here. A fact sheet from the U.S. Food and Drug Administration on casirivimab and imdevimab can be found here.
Those who test positive for COVID-19 and meet the above criteria are encouraged to ask their Primary Care Provider about bamlanivimab and Regeneron. Healthcare providers, parents of COVID-19 patients ages 12-17 and adult COVID-19 patients can call 863.284.1693 for more information and to refer a patient.